MEET THE STALLIONS
Explore the heart of our breeding program as we introduce you to the esteemed stallions covering our broodmares—powerful, pedigreed, and handpicked for excellence. Get to know the impressive covering sires who play a pivotal role in shaping the future of our broodmare pack and the next generation of champions in the world of thoroughbred breeding.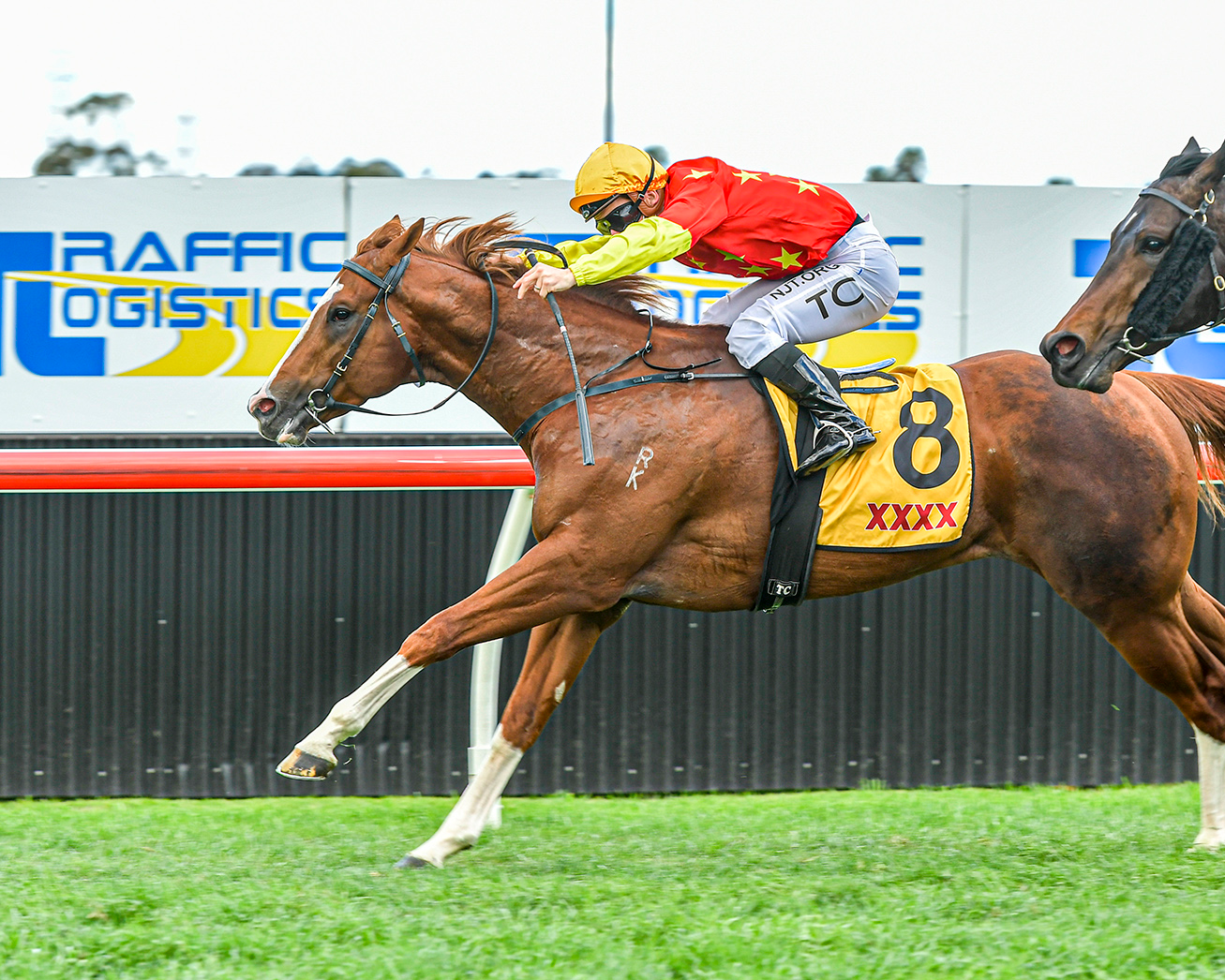 RUSSIAN REVOLUTION
Foals born:
Russian Revolution x Behaviourism '23
Russian Revolution x Deserved '23
Russian Revolution is the leading 1st and 2nd-season sire in Australia, and he can't do any better than he already has. The Blue Gum Farm team is thrilled to secure a nomination to him, given his tremendous appeal. Not much needs to be said, other than interest in the horse has skyrocketed over the past two years as he becomes the best sire son of Snitzel and the heir to the throne of the Danehill line sire. Russian Revolution has had foals sell for up to $1.1 million. Our broodmare Don'ttelltheboss has produced a very good-looking Stay Inside foal, and the team hopes that Russian Revolution can imprint this next foal in his own mold. Furthermore, he is a physical match for Don'ttelltheboss, with the expectation that the foal will be a fast, precocious sprinter, perfectly positioned in the Australian market.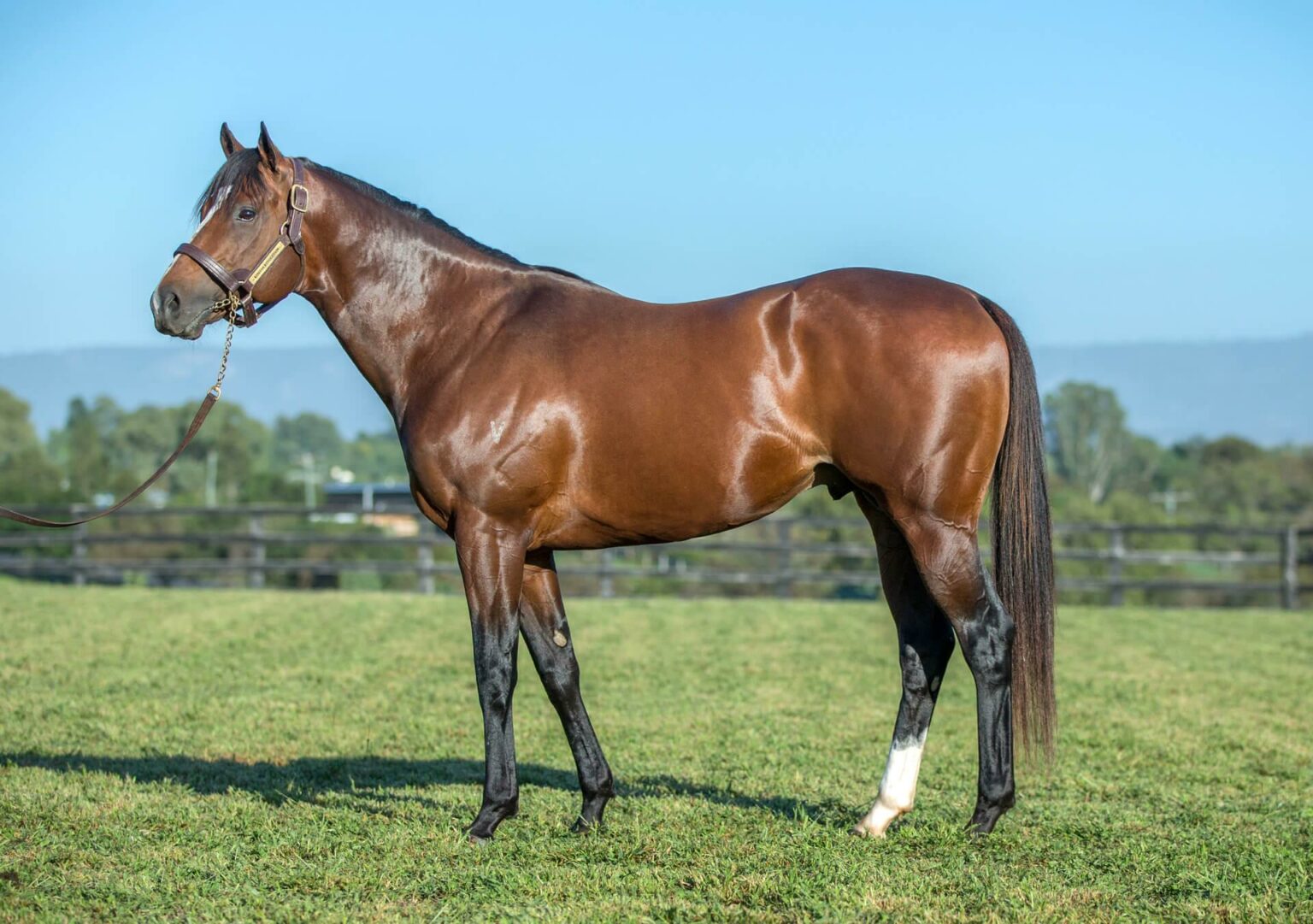 Jacquinot
Blue Gum Farm has chosen Jacquinot as the first-season sire of choice for both Behaviourism and Flandersrain. With a moderate price point at one of Australia's finest farms, Widden Stud, Jacquinot is poised for success. Jacquinot was a superb multiple Group 1-winning racehorse with a strong will to win and a very athletic action. His victory in the Group 1 C.F Orr Stakes made him the only Australian stallion to retire in 2023 as a weight-for-age (WFA) winner at 3 years old, defeating the likes of I'm Thunderstruck and Mr Brightside. He also triumphed in the Group 1 Golden Rose, beating competitors like In Secret, Fireburn, She's Extreme, and Golden Mile, in what is considered one of the three major stallion-making races for 3-year-olds, earning him a spot in the 2022 Everest, where he performed admirably behind the spring star Giga Kick.
Physically, he is a good match for Behaviourism, who is a very large mare with bulk and will benefit from Jacquinot's athletic frame, as Jacquinot is considered a medium-sized stallion. Similarly, Flandersrain is a high-quality mare, not overly large but will benefit from Jacquinot's size, type, and athleticism. Jacquinot hails from the famous Encosta De Lago line, out of the Group 1-producing sire Rubick, who is also the sire of Yes Yes Yes. With elements of Danehill and Sadler's Wells scattered throughout his pedigree, Jacquinot appeals to a variety of mares.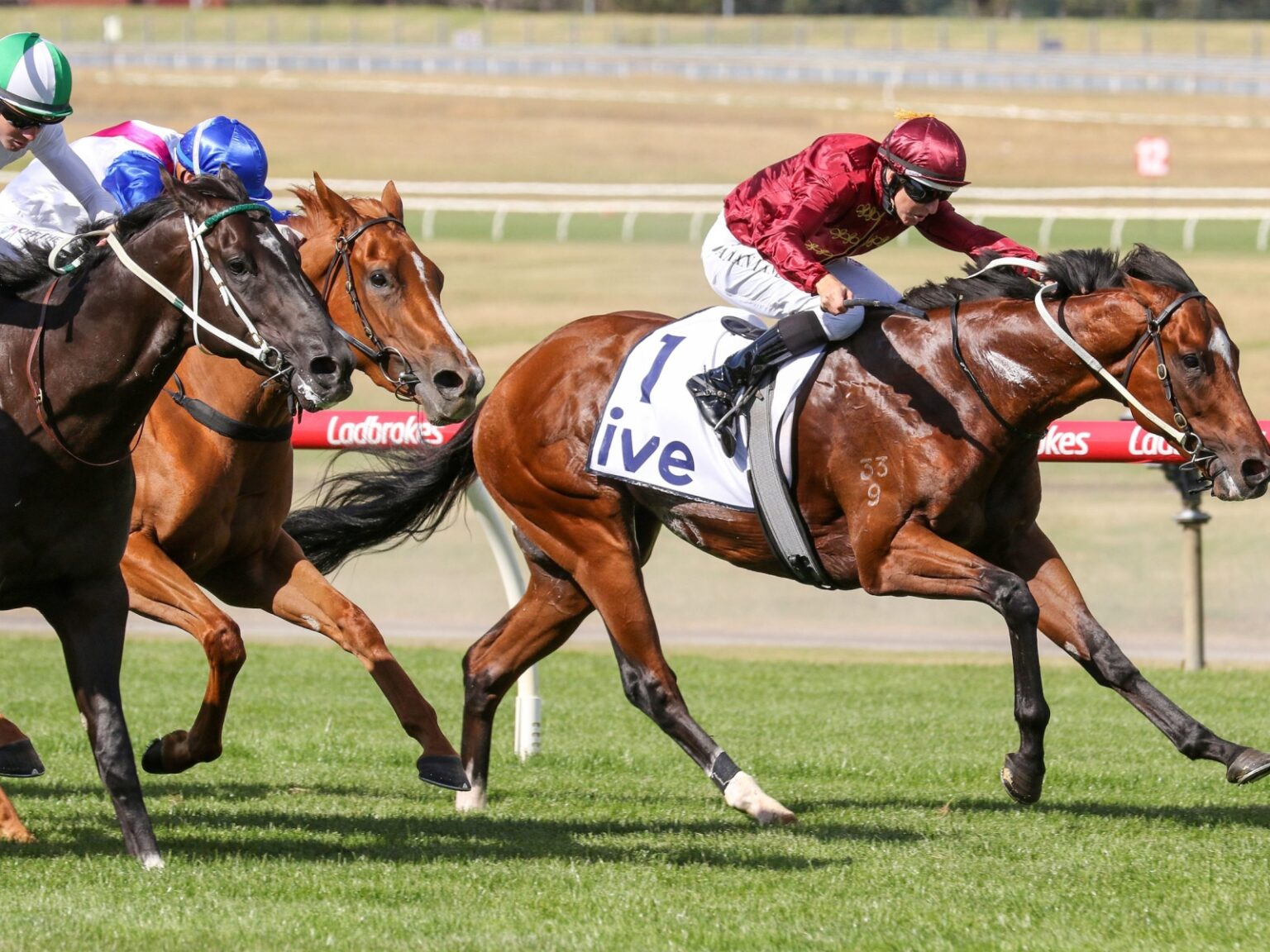 Sejardan
Both in terms of pedigree and type, this is an excellent match-up. In 2023, Blue Gum Farm has reintroduced two stallions to their roster: First Season Sire Sejardan and the Group 1-producing Coolmore Stud Stakes winner Flying Artie, who is also the sire of Artorius. Sejardan was a multiple Group-winning colt at 2 and 3 years old and was Gary Portelli's most precocious horse in a class that included Golden Slipper winner Fireburn. He remained undefeated as a Pre-Christmas 2-year-old and won races like the Breeders Plate, similar to Pierro, the Golden Gift, akin to Tassort, and The Inglis Millennium, much like Castelvecchio. He then returned at the age of 3 to win the Red Anchor Stakes at Moonee Valley. As a first-season sire, his progeny will be aiming for the Inglis Premier Sale, where they are expected to be physically impressive. If he can consistently produce foals with his abilities, his appeal to buyers at the sales looking for 2-year-olds will be very high in a competitive market.
In the case of Prosecution, it is a physically excellent match-up. For a mature mare, young stallions have often produced successful progeny, and the evident pedigree match-up was the final factor needed to secure Prosecution to Sejardan in 2023.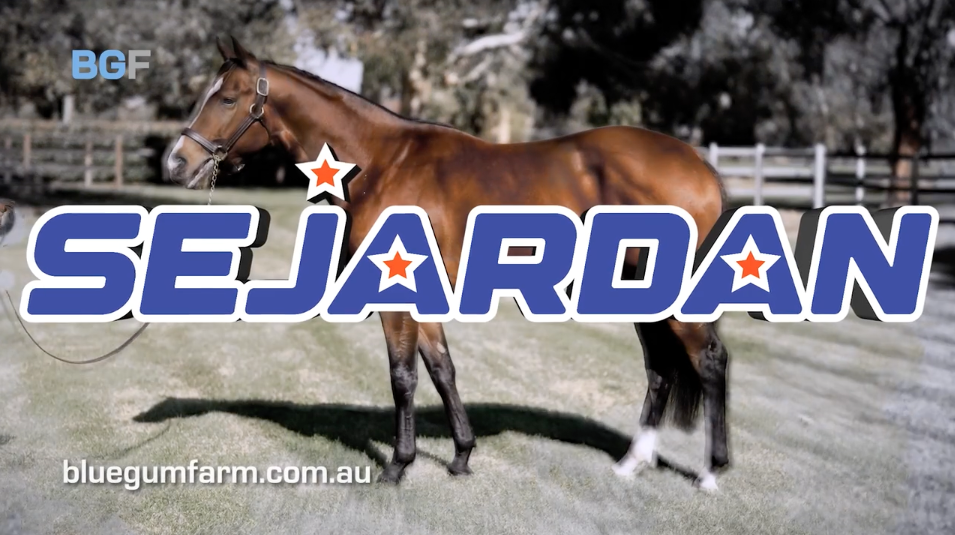 MAURICE
BTX Racing in partnership with Blue Gum Farm have chosen Maurice as the ideal stallion to go to for Manhattan Rain mare Flandersrain. Horse of the Year Maurice is an all-time great of Japanese racing, arguably the greatest Japanese horse ever to race outside Japan. He is now among the leading sires in both Japan and Australia where his durability has been his greatest asset. His leading progeny include Everest contender and Group 1-winning Mazu, as well as 3-time classic winner and first-season stallion Hitotsu. In 2022 Maurice returns to Australian shores from Japan and following recent success on the track his progeny will be extremely commercially appealing when they enter the ring in 2024/25.
Flandersrain x Maurice
Flandersrain being a middle-distance horse is well suited to Maurice whose early progeny have been extremely adaptable. The Japanese breeding of Maurice means that their pedigrees are outcrossed, with Sadlers Wells appearing on the third of Maurice and the 4th line for Flandersrain. The presence of Sadlers Wells lends the pedigree to a staying type, however, the size similarities of both sire and dam mean the Australian element of precocity means a more progressive foal would not be surprising.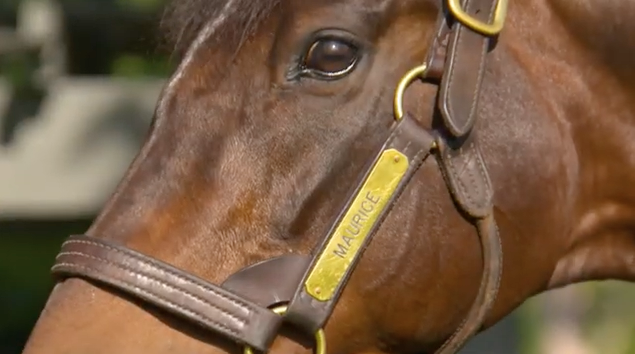 Stay Inside
Being the best son of one of the world's best and most inaccessible stallions in Extreme Choice, Stay Inside was instantly an extremely commercial stallion. The exploits of Extreme Choice from such small crops are breathtaking, and the fact Stay Inside has arguably a more precocious and better 2-year-old record gives the team a lot of confidence. Being a Golden Slipper winner, we hope that Stay Inside will stamp his stock both on looks and on physical traits, making the offspring precocious, fast and extremely attractive to key sales like the Magic Millions 2-year-old sales.
Stay Inside x Prosecution
The pairing of a mature mare like Prosecution with a young fertile stallion is common practice in Australian breeding and has seen great results in recent years. An excellent pedigree matchup with Prosecution's sire Choisir being by Danehill Dancer, so a cross on the third line (3m) mixed with two crosses on Stay Inside's 4th line (4m,4f). Physically the two match up well with both being medium-sized horses and already with Stay Inside's first progeny, as was seen with Extreme Choice and Not A Single Doubt, they are dominant sires, stamping their stock.
Stay Inside x Don'ttelltheboss
The team have perfectly paired these horses physically with Stay Inside being a strong, precocious medium-sized horse and Don'ttelltheboss having that same sprinting prowess. As an American-bred mare, the dam does not bring many similarities in pedigree however there is a cross of Danehill on the 4th line (Stay Inside 4m,4f x Don'ttelltheboss 4f).
The team are extremely excited about the prospect of fostering a very precocious sprinter in the Broodmare Pack.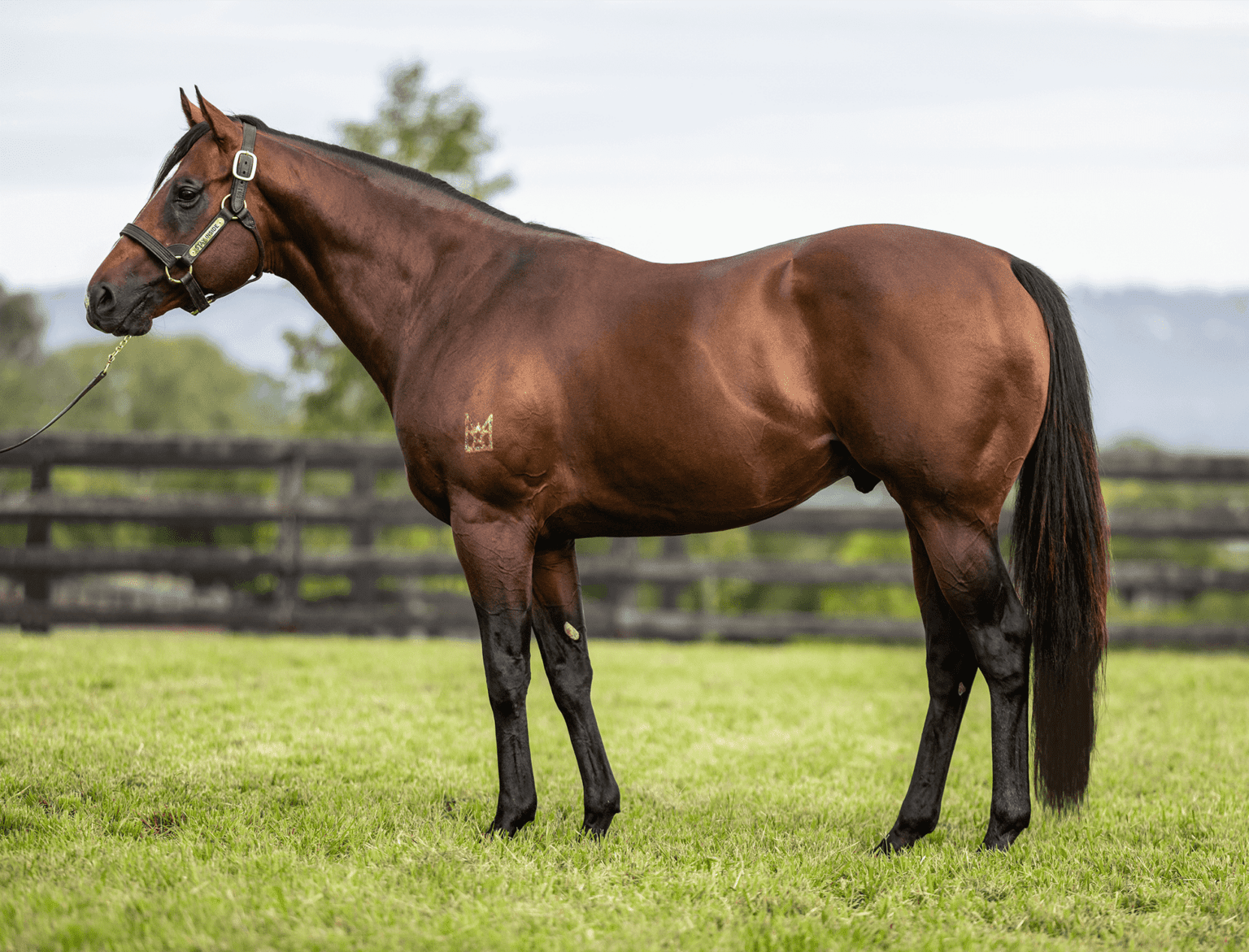 IN THE CONGO
One of the most impressive stallions to enter stud in 2023, In The Congo ticks both the appearance and pedigree boxes. He is a son of the Champion sire Snitzel, just like Russian Revolution, whom he outperformed on the racetrack. He is also the offspring of the South African Champion mare Via Africa, making him a champion himself from a champion lineage. In The Congo is a proven Group 1 winner of the time-honoured Golden Rose, winning in emphatic fashion breaking the race record and defeating 8 other Group 1 winners, including 9-time Group 1 winner Anamoe. The appeal of In The Congo as a stallion was further enhanced by his half-sister topping the Inglis Easter Yearling Sale for $1.8 million in April. For Deserved, he is an excellent match both in terms of physical attributes and pedigree. In The Congo is an imposing figure.